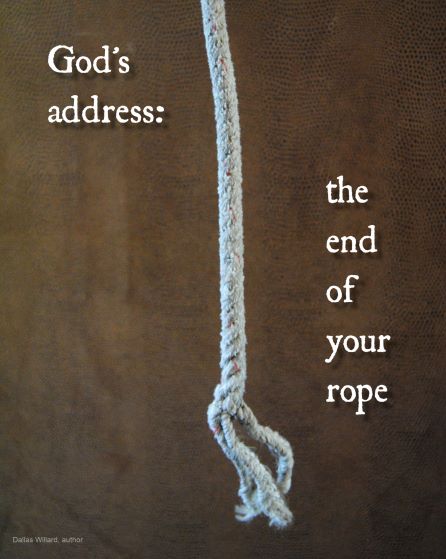 At least once in your life, you will be brought to the end of your rope. You will wonder where God is. You will doubt if He is really for you. You will question if He is working on your behalf. 

I confess during my first wife's 7 year battle with terminal cancer(diagnosed at age 33 with 4 children), I experienced the full misery of what seemed like God abandoning of me.
The chemotherapy, the emotional struggles she and we all of had, the incessant uncertainties of this wretched disease and the humiliating, distancing it causes in marriage brought me, the exhausted care giver to my knees.
I can't even watch a cancer commercial on TV. Even though I drove to a lonely park one day near the end and cried out to God that I felt abandoned by Him, I knew His character and His Word stated otherwise. That's a defining term, "otherwise".
Either I was going to walk in anger and despair and listen to what my life was screaming at me, or I was going to love and obey God by trusting that He was a God of His Word. By God's grace, accountability, and lots of tears and prayer, I chose the latter. I'm glad I did.
You may be here today. Perhaps tomorrow or maybe you've been in the dark of life.
Let us pray for each other that we would choose to put our hope and trust in Him and His Word which is eternally true.
"Trust in the Lord with all your heart, and do not lean on your own understanding. In all your ways acknowledge him, and he will make straight your paths." (Proverbs 3:5-6 ESV)