Send Comments to: jgrunseth@centurylink.net
Our nation and our churches are in trouble. When I watch or listen to the news, there is a growing indication that virtue is a lost commodity.  The media jumps from one trouble spot to another, from one terrible murder to another, from one terrorist attack to another, and from one politician flinging mud to another. None of these people committing violence or flinging insults should have passed Kindergarten!
What is of great concern to me is I see a great divide between churches claiming to be Christian.
On the one hand, there are churches that stand for the uncompromising truth of God's Holy, eternal, authoritative Word, the Bible. The people in some of these churches lean heavily on obedience, faith, and high standards of personal piety. Some of these people may tend to be blunt in their honesty and hurtful in their name calling of sinful lifestyles. They are not afraid to call out sinners with their wretched perversions and idolatry.
On the other hand, there are a growing number of churches that are dedicated to compassionate activities and the lifting up and welcoming of the less fortunate, people of color, inner city groups, and those struggling with gender issues. i.e.: LGBTQ. They rally to the battle cries of social justice, cultural diversity, economic equality, and lifestyle tolerances.
There are some churches that excel at both.
Have you ever watched one of those cage fights on TV?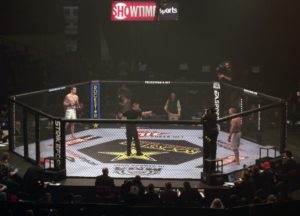 Imagine for a moment there are two bug-eyed opponents in the cage ready to fight. They are staring while sizing up each other. You see, they are used to fighting...a lot.
Each opponent has a good argument.
Compassion says, "Truth! You're missing the point! People don't need Bible verses shoved down their throats! People are tired of being judged and feeling guilty. What they need is mercy, kindness, warmth, and acceptance. God says to love Him and love your neighbor! Our churches are open and affirming safe places where hate, bigotry, and self-righteousness are not welcome. We love and accept people where they are at. It's our job to love them. Its God's job to change them.
You put God in a Truth box. You refuse to let Him out so He can help hurting, lonely, and downcast people. They need love; not the hammer of truth! You hurt people and judge people with all the truth you throw at them. You repel them from church. What you call LOVE is actually HATE! Who wants to follow a God that makes people cringe and squirm over sin and so called unacceptable lifestyles and relationship choices? What difference does it make? Haven't you read 1Corinthians 13 lately?" The Apostle Paul is quite clear. 1Corinthians 13:3-8a says,
'3 If I give all I possess to the poor and give over my body to hardship that I may boast,[b] but do not have love, I gain nothing.
4 Love is patient, love is kind. It does not envy, it does not boast, it is not proud. 5 It does not dishonor others, it is not self-seeking, it is not easily angered, it keeps no record of wrongs. 6 Love does not delight in evil but rejoices with the truth. 7 It always protects, always trusts, always hopes, always perseveres.
8 Love never fails.'
Paul goes on to say in 1Corinthians 14:1a, 'Make love thy great quest.'
Truth, on the other hand, says, "Compassion! Your'e forgetting something! Me! Jesus said, "I am the way and the truth and the life. No one comes to the Father except through me." He also said, 'Then you will know the truth, and the truth will set you free.' In your attempt at making everyone feel affirmed, welcomed, and accepted, you are leading some over the cliff of unrepentant sin.
You are unknowingly enabling them to fall to their doom. Destruction awaits. Don't you remember? God is not just a God of love and mercy. He is a holy God. His wrath upon sin is real. Hell is filling fast! Is it not love and kindness to help sinners see the error of their ways? John, the Baptist did this. Matthew 3:2-3 says, 
'Repent, for the kingdom of heaven has come near."3 This is he who was spoken of through the prophet Isaiah:
"A voice of one calling in the wilderness,
'Prepare the way for the Lord,
    make straight paths for him."
Yes. Compassion and mercy are vital. But so is truth. Right? Come on! Without a turning away from sin, self, and God-dishonoring lifestyles (Romans 1:16-32, 1Corinthians 6:9-20), a lost sinner can be shown acceptance and affirmation all day long yet still, in the end, be cast into Hell. I think we need to help the lost, the sinful, the underprivileged, and the marginalized come to the Cross of Jesus, repent, and cry out to Him for forgiveness, salvation, and eternal life leading to Heaven. Joel 2:32a is clear. 'And everyone who calls on the name of the Lord will be saved;'"
---
STOP THE CAGE FIGHT!
For the sake of the Gospel, God's honor, and souls hanging in the balance, Mercy and Truth - You two need to get along!  Matthew 11:17 says, "Jesus knew their thoughts and said to them: "Any kingdom divided against itself will be ruined, and a house divided against itself will fall." (Bold added)
Abraham Lincoln knew this well with the Civil War (1861-1865). We Americans nearly lost our nation.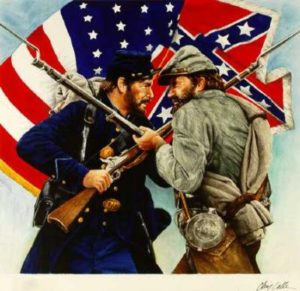 Advice? 
Let Proverbs 3:3 and Zechariah 4:6 guide your way.
Compassion and Truth - you need one another.
Proverbs 3:3 says, "Let not mercy and truth forsake thee: bind them about thy neck; write them upon the table of thine heart:   KJV  (Bold added)
Zechariah 4:6 says,  "So he said to me, "This is the word of the Lord to Zerubbabel: 'Not by might nor by power, but by my Spirit,' says the Lord Almighty."  (Bold added)
Truth should never be found separate from mercy. The reverse is also true. Truth delivered without mercy is a dagger of death into the heart. Mercy without truth is just comforting souls on the 'bus ride to Hell.'
With God's help, neither Compassion nor Truth has to be compromised. He will enable you to be on the same team. Seek Him. Wise people still do.
 NO MORE CAGE FIGHTING!
NO MORE CIVIL WAR!