My first office 41 years ago was in a basement built over a sewer. Some days the stench was so bad, I could not even go in there! I was a bumbling 2nd Lieutenant stationed in Stuttgart, Germany. The building was very old surviving several European wars.
Funny how history repeats itself. Today I am working in my basement office. Thankfully, no stench!
I've studied enough world history to know that the world is not improving. Many people are enslaved in their sin and the devil is having a hay day.
I am sick and tired of hearing about shootings, bombings, ISIS, and terror. I have had it with weak, appeasing, lying, and 'covering up' political leadership. Where is Justice? I'm sick of political correctness. Can't we just be kind and respectful?
Quite frankly, I am fed up with people trying to convince us that evil is good and that perversion is a right that deserves equal protection under the law.
Barbara and I stand with Franklin Graham and other praying, God-fearing, Bible loving people. We must pray. We must vote. We must get involved as followers of Christ.
I am weary of debating people in love with evil, false teaching, and corrupt thinking. I've been praying. I am convinced that the answer is for me to pray and to focus on Jesus, His Word, and His Gospel. This IS the Front Lines of the Spiritual Battle!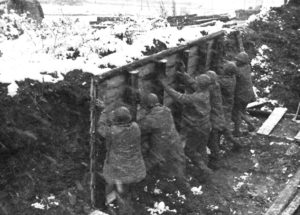 Unless Jesus saves a person and unless the Holy Spirit indwells and seals that person so as to receive forgiveness and new, eternal life, that person is eternally without hope. Trying to convince such a person to embrace TRUTH is about as easy as chewing an oak tree.
I want to love people with the love of Christ.
The best way to love someone is to share the Gospel with them and be a loving witness to them. We cannot save anyone. We can be a ministering, restoring Lighthouse however. We can meet needs as God prompts and enables. It is Jesus, God the Word, and God the Son, who, alone, saves.
Joel 2:32a: "And everyone who calls
on the name of the Lord will be saved;"
So this first Message from the Front Lines is simply this:
"FOR I AM NOT ASHAMED OF THE GOSPEL, FOR IT IS THE POWER OF GOD FOR SALVATION TO EVERYONE WHO BELIEVES..." - Roman 1:16