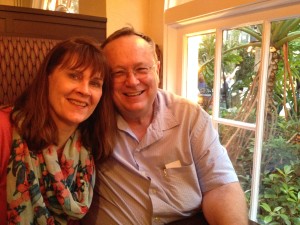 Jim has been on staff with Campus Crusade for going on 34 years. He is a graduate of The United States Military Academy at West Point and also has a Masters in Counseling - Psychology from Trinity Evangelical Divinity School. He is also an ordained minister.
Barbara is a graduate of the University of Wisconsin - Milwaukee and taught 13 years at Faith Christian School in Williams Bay. She has been on full time staff with Campus Crusade for 14 years.
They offer biblical counseling to marriages, families, single parents, and individuals free of charge.
"We love to share the Gospel and provide a friendly, mentoring atmosphere. We try to build strong, trusted, godly friendships with the couples and individuals we serve. We try to pour our lives into them so they will learn to do likewise with others."
They are the authors of numerous materials on marriage, marriage preparation, family, dealing with past emotional wounds, and discipleship.
People from over 93 countries have visited their website, www.marriageanchors.com . Couples and churches from over 40 nations have downloaded their free ebooks.
They have 7 children and 10 grandchildren and live in Elkhorn, WI.
"Jim and Barb are seasoned in their love for God and how that translates to their marriage relationship.
Remember the Rowboats book is a living testament to their passion and calling to deepen and enrich godly marriages."

Josh Mcdowell

"If you're looking for a book on building your marriage that is forged out of the fire of personal experience,
Remember the Rowboats is for you. It's solid, helpful, practical, biblical advice on keeping it all together when everything is falling apart. The chapter "Oars and Life Jackets" is worth the whole book."

Dr. Woodrow Kroll
President and Senior Bible Teacher of Back To The Bible
If you are looking for and authentic book about marriage and family, you've found it. Jim and Barbara peal back the veneer and give it to you straight - real people living a real life, but with real solutions."
Dennis Rainey, President of Family Life