It was in the early 1500's. William Tyndale (1494-1536: Gloucestershire, England) listened to God rather than the domineering voice of man. You could receive the death penalty for just possessing an unlicensed possession of Scripture in English! Well, he believed that all people should be able to read and understand the Bible, not just the priests and the elites.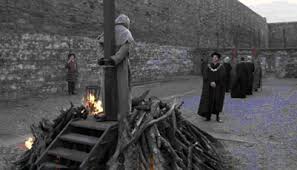 "Tyndale's translation was the first English Bible to draw directly from Hebrew and Greek texts, the first English translation to place God's name [Jehovah] in its rightful place, the first English translation to take advantage of the printing press, and first of the new English Bibles of the Reformation. It was taken to be a direct challenge to the hegemony (human domineering control) of both the Roman Catholic Church and the laws of England maintaining the church's position." ¹
In 1536, he was arrested for heresy, hanged, and then burnt at the stake.
Have you ever been persecuted, accused, or insulted for doing, saying or believing in that which is right in God's eyes according to His Word? If so, the pain is real and sometimes the scars do not fade. Like Tyndale, we may be called upon in this rapidly darkening culture. Night is upon us…not physically, but spiritually. If you love and follow Jesus you will stand out like a city on a hill at night. And that is good. It will be painful, but it is Christ's honor and name that we uphold at all cost.
"Suffer hardship with me, as a good soldier of Christ Jesus. No soldier in active service entangles himself in the affairs of everyday life, so that he may please the one who enlisted him as a soldier." (2 Timothy 2:3-4 ESV)
¹
William Tyndale (/?t?nd?l/;[1] sometimes spelled Tynsdale, Tindall, Tindill, Tyndall; c. 1494 – c. 6 October 1536) was an English scholar who became a leading figure in Protestant reform in the years leading up to his execution. He is well known for his…