When was the last time you wept over something? For most of us, it has been awhile. I remember weeping over the loss of my first wife after she succumbed to a 7 year battle against cancer. I remember shedding a tear when my dad died.
I really lost it when we had to put our beloved Golden Retriever down due to rapidly failing health. Oliver was my best friend. I wept like a baby for an hour. Finally, Barbara and I wept together at the end of an excellent movie AUGUST RUSH when a broken family is reunited. What an ending!
I have never wept like Jesus did when He openly wept over His beloved Eternal City Jerusalem.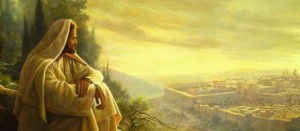 In the New Testament of the Bible in the 19th chapter of Luke, it reads,
"41 And when he drew near and saw the city, he wept over it, 42 saying," Would that you, even you, had known on this day the things that make for peace! But now they are hidden from your eyes. 43 For the days will come upon you, when your enemies will set up a barricade around you and surround you and hem you in on every side 44 and tear you down to the ground, you and your children within you. And they will not leave one stone upon another in you, because you did not know the time of your visitation." ESV
Jesus, God's only Son, the Creator of the Universe, and the only Savior available was rejected by His own beloved people. He knew, many would now perish and would have to face the wrath of Almighty God for their ghastly sin and unholiness. Our Holy God cannot be in the presence of unholiness and imperfection. If so, it would be worse than lighting a match and throwing it into a vast ocean of gasoline!
Question #1: Are you weeping over a family member or friend who is rejecting the Savior Jesus`s offer of forgiveness and His Righteousness in exchange for their filthy rags of putrid sin, eternal condemnation and damnation?
Question #2: Are you grieving and troubled over the darkening plague of evil, violence, and rage that is blanketing your Nation and others?
Question #3: Are you perhaps struggling mightily as to whether or not you should fully surrender your life, your sin, your soul, and your future at the foot of the Cross of Christ?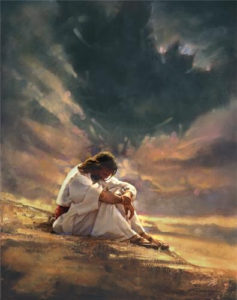 Recall these biblical truths.
"Indeed, there is no one on earth who is righteous, no one who does what is right and never sins." - Ecclesiastes 7:20 NIV
"The wrath of God is being revealed from heaven against all the godlessness and wickedness of people, who suppress the truth by their wickedness," - Romans 1:18 NIV
"Because of these, the wrath of God is coming." - Colossians 3:6 NIV
I plead with you dear brother or sister. Jesus is calling.
Is He weeping over you?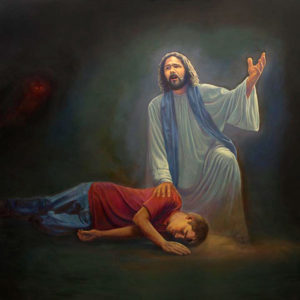 He says, "Come to me, all who labor and are heavy laden, and I will give you rest."      Matthew 11:28 ESV
Remember. Not everyone who is nice, or who attends church, or who bumps into you on the street or at the ball game, is a child of God. Only a select, chosen few are.
"Yet to all who did receive him, to those who believed in his name, he gave the right to become children of God— children born not of natural descent, nor of human decision or a husband's will, but born of God." John 1:12-13
If He is tugging at you, drop everything! Run to Him! Fall at His feet. Cry out to Him to save, redeem, and rescue you from your sin and from God's eternal wrath. He promises to do so. Please receive Him and believe in His Name!
Although, Revelation 3:20 was written for a Christian audience, its message can apply to you here and now.
"Here I am! I stand at the door and knock. If anyone hears my voice and opens the door, I will come in and eat with that person, and they with me." Revelation 3:20 NIV
Please let us know if this article affects or helps you. Consider sharing it. Email us at jgrunseth@centurylink.net
May Jesus be the Light of your life this and every day! God bless you!
If you want to read The Gospel on the Front Lines: Message #1, go to: http://marriageanchors.com/2016/07/07/the-gospel-on-the-front-lines-message-1/
Here is the link to Message #2: http://marriageanchors.com/2016/07/12/the-gospel-on-the-front-lines-message-2/
A more complete Gospel presentation is here: http://marriageanchors.com/2012/05/18/your-anchor-dont-leave-port-without-him/
COMMENTS: jgrunseth@centurylink.net