Have you ever walked on a pine forest pathway on a beautiful day? Imagine with us for a minute. You are enjoying the soft, pine needles under foot and the tall, evenly space pine trees that reach upward to the brilliant blue sky. As you calmly walk down this verdant path, your eye catches something small but precious. You stop and kneel down to discover a stunning and delicate May Apple blossom.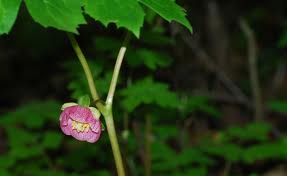 Quietly you confirm once again that God is an artful Creator who showers us with His goodness, His glory, and His majesty. In a similar way, home grown compassion reveals to us our Lord Jesus who is the author of compassion. It is the Lord "who redeems your life from the pit and crowns you with love and compassion," Psalm 103:4 "The LORD is gracious and righteous; our God is full of compassion." Psalm 116:5
The Encarta Dictionary defines compassion as, "sympathy for the suffering of others, often including a desire to help." Like the precious May Flower blossom, compassion in marriage creates a sought after oasis for the needy soul. Looking at many biblical examples, we find that compassion was often bestowed on undeserving, destitute, and sinful people. This is the very compassion and mercy of our Lord toward those who could never perform well enough or measure up high enough to ever merit it. That is all of us.
Working with many marriages and families over the years has been both a rewarding and an insightful experience. Occasionally we come across a May Flower blossom. A kind husband or a supportive wife shows compassion toward his or her mate and this tender fragrance permeates the home. The children like being there because home is safe and secure. Mom and Dad care for each other. They support each other. They never grant conflict a lengthy stay in the Lord's home. Home is where acceptance and help reside. It is indeed the Lord's home and the needy souls inside are His guests. Because of this one single quality we see in some mates, we have hope.
Sometimes day after day, week after week, of counseling, training, and mentoring couples in troubled homes, Barbara and I get weary. Some people find it nearly impossible to show compassion and kindness to their mate. Unfortunately, sometimes, judgment and rejection become so ingrained in a husband's or wife's heart that living with them is like living with a blast furnace, a porcupine, or a dripping faucet. Some husbands and wives have swallowed the lie that they have every right to ridicule and reject their mate or his or her extended family.
One husband stated, "She doesn't meet my needs! She is always on my back for something! Surely I deserve better! What's wrong with her. How come she can't get her act together like my friend's wives!" This grieves our Lord. When God brought Barbara into my life 17 years ago, I was a desperate and destitute man. I had lost my wife of 20 years to a difficult 7 year battle to cancer. My nerves were shot. I was depressed and suffered from migraines daily. I begged God for mercy much like Bartimaeus, the blind, poor beggar did in Mark 10:46-52.
I know the Lord is merciful and compassionate toward me not just because His Word says He is but because I, like Bartimaeus, have received it. Not only was Jesus compassionate and merciful in giving me Barbara, but she, time and again, has bestowed mercy on me, a wretched, undeserving man. I am blown away by how kind, forgiving, and helpful she is not just to me but to many others as well. She is a gift from God. She is a home grown, compassionate wife, mother, and friend. I know Jesus lives and is true to His Word. I see Him everyday in our home. I see Him in Barbara. I don't deserve it. I don't deserve her. Of course, neither do I deserve what Jesus has done for me. I am grateful.
If compassion is a distant relative that has not been invited over in a long time, ask the Lord to invite His compassion in your heart, your marriage, and "His" home. It might be that your showing compassion in your home will convince others you actually love Jesus, are grateful for His compassion, and that He is worth pursuing. "Be kind and compassionate to one another, forgiving each other, just as in Christ God forgave you." Ephesians 4:32 May God grant you His home grown compassion.
***
As always, Barbara and I are here to help you. Please visit marriageanchors.com for more insight and encouragement on marriage God's way.
Click to discover how to begin a personal and lasting relationship with God:  http://www.campuscrusade.com/fourlawsflash.htm
Click to receive kind assistance with your spiritual journey:
Our Passion:
Helping marriages, families, and individuals find lasting hope and a future in the Lord Jesus Christ.   Jeremiah 29:11-14,      Deuteronomy 31:8
Our Prayer:
For God to raise up Hearts and Homes to be Gospel Lights to the Nations! Matthew 5:14
All ministry gifts payable to:  CRU
Then mail to:
Jim & Barbara Grunseth
W4760 Steeple Chase Way
Elkhorn, WI 53121
Or:
Online giving to our ministry:  https://give.cru.org/0139150
Our CCC donor account number is #0139150
"Mercy and Truth must be found together. Lead with Mercy." Proverbs 3:3
Click Here for Free E-Books for You!
Jim's cell: 262-745-4160
Jim E-Mail:  jgrunseth@centurylink.net
Ministry Site: www.marriageanchors.com   -- Reaching 93 countries so far!
Facebook:  https://www.facebook.com/james.grunseth
"Let's fill Heaven together."